Many Games Undergoing Beta-testing Fail to Acknowledge the Valuable Wisdom Hardcore Gamers Can Give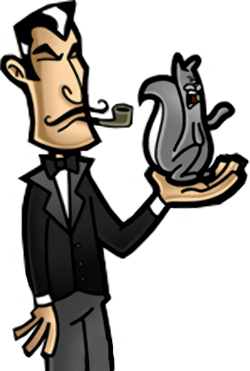 Hello game developers. My name is unimportant, but my business is: My business is you. How many times have you launched a new product on an unsuspecting public only to be whalloped by an unfavorable reaction, as though your software just broke out like a rash? Believe me, I know my software (as well as my rashes), and I can help.
What you need is an in-depth beta-testing program sponsored by myself and Mr. Puffytails here. I will personally put an alpha version of your game through an extensive third-party quality assurance program while my compatriot simulates catastrophic hardward failures by pelting our standardized test equipment with nuts.
More importantly, I've acquired through my extensive MUD and IRC connections a stable of the most hardcore gamers on the planet. Believe me, nobody will put your game through the paces like a macho gaming fanatic who has forsworn life and career just to relentlessly attack your company and others like it on your own public messageboards. Why allow these gamers to work against you when they can be working in YOUR corner prior to your game's release? Just listen to some of the valuable, valuable feedback they can give:

I HAVEN'T ACTUALLY INSTALLED THE GAME YET, BUT JUDGING FROM THE SHODDY QUALITY OF THE PRINTING ON THIS CD CASE, IT'S GOING TO TOTALLY SUCK ASS. THE SKILLED EYE CAN SPOT THESE THINGS.

I SEE YOU HAVE AN EASY-TO-USE QUICKSAVE FEATURE ON THIS GAME. THAT'S TERRIFIC. WHILE YOU'RE AT IT, WHY NOT PUBLISH THE CHEAT CODES? BETTER YET, JUST START THE PLAYER WITH UNLIMITED AMMO AND MAKE HIM INDESTRUCTABLE. I'D PLAY.

THIS GAME IS WONDERFUL, AND THE COMMUNITY-BUILDING FEATURES ARE EXCELLENT. BUT I WAS WONDERING WHY YOU DIDN'T INCLUDE A SECURE PRIVATE PLAYER-TO-PLAYER CHAT SYSTEM, YOU KNOW, IN CASE I SCORE SOME PRIVATE TIME WITH THE HOOCHES.

YOUR SOUND SEEMS TO BE BUGGY ON THE LOW END. I HAVE AN 8.5 SPEAKER SURROUND SOUND SYSTEM, AND I FULLY EXPECT THAT THE BLAST OF A MORTAR SHOULD ACT AS A POWERFUL DIURETIC.

THERE AREN'T ENOUGH NAZIS!

YEAH, THIS IS GREAT AND ALL, BUT I WAS WONDERING HOW GUYS LIKE ME COULD MAKE MONEY OFF OF YOUR PRODUCT ON E-BAY? YOU SHOULD CONSIDER PUTTING MORE RARE AND UNUSUAL ITEMS IN THERE THAT I CAN SELL FOR BIG DUCATS. THANKS.

FOR YOUR MULTIPLAYER BACK-END SOLUTION I SEE YOU'VE CHOSEN TO USE A LAMENTABLE NT SERVER ARCHITECTURE. I WON'T BORE YOU WITH THE SECURITY HOLES I'VE FOUND, HOWEVER, FOR A SMALL FEE I WILL SELL YOU BACK YOUR LIST OF CD-KEYS AND CREDIT CARD NUMBERS THAT I ACQUIRED.
---

Pretty exciting stuff, eh? You can get comments like these and more for just $36,000 per title, payable in hard currency only please. Channel operators are standing by in IRC to take your order!
---
Score: 8.58; Total Votes: 1315 as of 2009-12-09.
---
---
Links In This Article