Jim Always Plays the Wermacht in WWII Games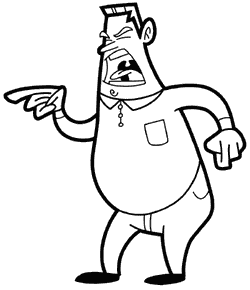 Every evening around 5:15 it's the same thing. I hear the squeaking of tight leather boots stalking down the carpet, and then he pops his head over my cubicle wall. Sometimes he snaps a riding crop.
"VE PLAY MIT ZE CLOSEN COMBAT SIE JA!?" he barks.
Keep in mind the dude's from Columbus, Ohio. I think he learned every word of German he knows from either Hogan's Heroes or the Guns of Navarone. "Hang on," I say, "Lemme finish this email."
"NEIN! DU NICHT MIT DER EMAIL UND MACHT DU MIT DER WOLFENSTEIN UND DAS VORLD VAR ZWEI ONLINE!"
"Yeah, Jim, I follow, I just need to -"
"LEIBE MEINE ABSCHMENKE!!" he cries, randomly breaking stuff on my desk before he storms off. You can't really argue with that.
Sometimes I worry, you know? A good red-blooded capitalist American -- one quarter Jewish even -- who insists on playing as the Germans in World War II games. It's not even ideological. "They have cooler uniforms," he confided to me one lunch hour. Another time he explained that players who played as the Germans tended to be more organized and serious about co-op games. "They don't all try to be heroes," he explained. One time, he says, he logged onto a server and nobody had joined the allies yet, so he and his fellow Germans began marching in formations. "Everyone ... all my little men ... they like to march in neat little lines!" he said, talking softly and fiddling with the straw in his milk carton. Suddenly he leapt to his feet and pounded both fists on the lunchtable, spilling my coke. "JIM UBER ALLES!!!" He cried, face red with exertion.
I worry a little. About Jim.
---

This morning I found Jim weeping on the curb in front of the office. "You okay Jim?" I asked.
"Meine Panzer, meine panzer..." he sobbed.
---
Score: 8.15; Total Votes: 1893 as of 2009-12-09.
---
---
Links to This Article