The Daily Victim Christmas Special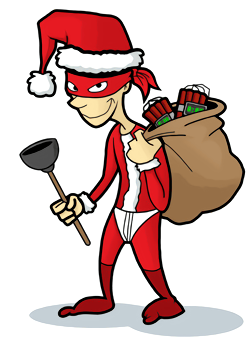 Long time no see, brother in arms! As you probably guessed, my long-stading hatred of toilets eventually landed me in the slammer. Sure, the toilets had the upper hand for a while, but when I was stuck in that tiny cell I had nothing to do but stare at the little smirking toilet and plot my revenge.
They paroled me just in time for Christmas, but little did they know that it was but the perfect time for me to enact my sweet, sweet vengeance! Merely by dressing in a red suit with white fringe and my underwear on the outside, I'm mistaken for this Chris Cringle fellow and given free access to just about every house in the neighborhood. I fool them all by passing out video games -- I hate to give up my personal collection but as you know I'll do anything for the cause. When they aren't looking I secretly bomb all of their commodes.
At the stroke of midnight tonight, Christmas Eve, my vengeance will be fulfilled! When the timers reach 0:00, while the midnight star is high in the sky and the savior in the hearts of the people, fate will demonstrate forcibly the woeful weakness of their false porcelain masters! Thousands of toilets, shattering in unison! Oh ... Holy Night! Oh Holy Night indeed!

TIS THE SEASON OF FORGIVENESS, AND I FORGIVE YOU, ISP!
For months I've been trying to destroy my ISP, and this morning I awoke prepared to swear a blood oath for its destruction. But lo, when I walked into my den I saw a glorious light. Green lights -- lots of them -- twinkling across my modem! Magical! Oh he has come, the savior has come! I had full broadband once again. I forgive you ISP, I forgive you as it is written!
Then I remembered, a week ago while I was in the office of my parole officer, I had met a strange man who told of his plan to destroy the toilets of the world. My mind thinking only of vengeance at the time, I gave him the address of my Internet Service provider and explained that it had many, many toilets to dispose of. I told him to use extra explosives. Oh woe to my wretched ways! Had I but known! Now it is up to me to stop this mad red-suited bomber before my connectivity is again severed from my faithlessness! I grabbed my broadsword and set out into the snow to seek out and stop this Santa before it was too late.

SOME FOOL IN OUR CHIMNEY IS INTERRUPTING MY MARATHON CHRISTMAS ASHERON'S CALL SESSION
What? What's all that noise on the roof? This is ridiculous. I finally have a full week off of work, and I planned on spending the whole time in the Lugian Citadel levelling up my level 44 War Mage. Now some fool is trying to cut in on my action. Well, fortunately I have a backup plan. My girlfriend has been guarding this house like a CTF base since we started dating -- "You got Dee!" I told her.

THE STRANGER ON THE ROOF WAS DRESSED IN RED -- HE WAS GOING TO TRY TO TAKE THE BLUE FLAG -- DON'T YOU SEE I HAD NO CHOICE?
Don't get all high and mighty with me, you stupid bird! Or ... mammal! Whatever you are. I heard him coming in through the secret roof entrance. I instinctively grappled up there, saw a flash of red, and that was it -- you know -- the old instincts kicked it. I kneed him in the groin, powerdrived him through the skylight, then suplexed him out of the second floor bedroom window.

SANTA! OHMYGOD IT'S SANTA! WHERE THE HELL IS MY NEW MONITOR SANTA?
For years I've suffered with this little bitty 14-inch monitor, and I've hoped and prayed to get a new one for Christmas. Well, while walking back home from another humiliating LAN party, I see some chick suplex Santa out of her window. She was ruining my chances for getting a flatscreen! I grabbed his broken body and knew I could score major points by rescuing him. But, I didn't want to take him to the hospital, because if they fixed him up he might give all his presents to sick patients or needy children. I've seen it happen. No, there was only one possible person who could bring him back to consciousness better than before...

AT LAST! ANOTHER LIVING SUBJECT WITH WHICH TO TRY MY OVERCLOCKING EXPERIMENTS ON!
Hello, hello, are the smelling salts working? Can you hear me? Ah good, I hesitated to slap you with the spatula again as I'd already left a mark. Now then, can I be frank? What's your goal in life? To blow up toilets, you say? I should have guessed thanks to the plunger and the explosives. Well, what if I were to tell you that you could blow up twice as many toilets in just 33% of the time? It's possible, thanks to the Pentium 4 NetBurst architecture and 28-stage hyperpipelined, superscaler, out of order chip design. That's right, I can supe you up to 1.7 or even 2 GIGAhertz! Don't try to struggle, I've strapped you down tight. Ordinarily I'd need a thunderstorm to generate the power necessary to overclock your DNA, but being winter and all, that's not likely. Instead, I've hacked into the television studio and aimed their microwave transmitter dish at the local power line transformer outside. Soon it will overheat and explode, arcing 1.21 gigawatts of power at the nearest metallic object -- the lightning rod attached to my bedroom! Prepare for PENTIUM 4 POWER!

HONEY, I KNOW YOU'RE UPSET THAT YOU WON'T GET DEUS EX FOR CHRISTMAS, BUT THINGS COULD BE A LOT WORSE.
For instance, take a look at the guy who came into the hospital while I was working my shift this evening. He claims he was struck by lighting, but of course, there wasn't a storm in the area tonight. Totally delirious. Says he was trying to track down Santa Claus, and he was following the tracks in the snow leading up to some house, when suddenly there was some bolt of electricity that hit the broadsword he was waving around. Then he got all frantic, foaming at the mouth, claiming that Santa had placed bombs in the toilet of his Internet Service Provider. Well, clearly he was a crackpot, but you know, we always have to check stuff like that out. I called the tech support line of his ISP but nobody answered.

THE RINGING OF THE TECH SUPPORT TELEPHONE AWAKENED ME ONLY MOMENTS BEFORE THE DISASTER
I must not have had enough caffeine because I remember shortly after that Santa guy visited and gave me a used copy of Half-Life that I must've dozed off while sitting on the toilet but I was awakened hours later by the ringing of the tech support line and my head shot up like a rocket but fortunately I had brought a two-liter bottle of Mountain Dew into the bathroom with me so I started chugging it to make sure I had enough energy to handle the crises but you know how that stuff gives you gas and I didn't think it was a big deal but suddenly when I let it rip it was as though a bomb had gone off, and then next thing I know I was hurtling through the drywall and skyward I swear I'm not making this up from now on I'll stick to coffee instead of carbonated beverages.

SWEETHEART, JUST BECAUSE A TOILET LANDS ON THE ROOF OF MY DORM ROOM DOESN'T MEAN WE SHOULD STOP MAKING OUT.
You understand, I finally got my dumbass roommate out of here for Christmas break, so I have a window of about a week to engage in some hardcore nookie. So no, I don't think a toilet changes anything. Look, toilets are always flying all over the place. Don't you see the news? Toilets everywhere. One was bound to land on our -- oh, there are pants attached to it -- well, that's mighty weird. That would imply that some guy without pants is still possibly hurtling through the air somewhere. But seriously, let's ask ourselves: is that any reason to put your shirt back on?

I SAW MY MOMMY KISSING SANTA CLAUS, BUT HIS PANTS WERE MISSING WHEN HE ARRIVED, CONTRARY TO WHAT YOU'RE HEARING ON THE TRIBES SERVERS
Since the rumors are already flying around, I just wanted to clarify. Yes, a gentleman did indeed fly through her bedroom window. But, I assure you, he was missing his pants before he arrived. It's not like my mom goes strippin' the pantaloons off of any creep who flies through the window late Christmas night. She insists they knock most of the time. I swear.
---

I'd like to believe that there is a higher power guiding that which we do and all that happens in the world. Sometimes I think he takes a little nap.
---
Score: 9.2; Total Votes: 3465 as of 2009-12-09.
---
---
Links to This Article
Links In This Article