The Daily Victim Thanksgiving Special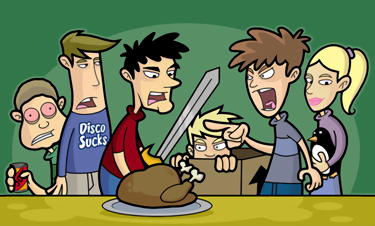 I CAN HELP YOU OVERCLOCK THAT TURKEY
You ignorant fools, you're basting a default OEM turkey. Just give me half an hour with that thing and I can give you twice the white meat and an over 33% increase in juiciness. Also, I can rig up your carving knife to slice through human limbs as if through butter.

I AM THANKFUL FOR MANY THINGS, PARTICULARLY MY ASHERON'S CALL LEVEL 39 WAR MAGE
That's right, I'd like to start off this meal with a little humble thanks. Thank you for the Mattekar that I killed to get to level 39. Thank you for my girlfriend, even though she won't let me get anywhere near the turkey. And most importantly, thank you for Steve's mom.

SHUT UP ABOUT MY MOMMA ALREADY!
I bet it was you who logged onto the Tribes server last night under the nickname "NakedMen" and told everyone my mom got me onto the Tribes 2 beta testing team by going down on their entire QA department. That's totally untrue! I got on the beta test all by myself by uh ... [mumble mumble]

I'VE BEEN DEFENDING THIS TURKEY SINCE THE START OF MACY'S THANKSGIVING DAY PARADE
That's right, a few of you have managed to snag a bite of it, but none of you have so much as come NEAR getting inside, much less escaped with any stuffing. C'mon, try me. I have a carving knife. You want some? You want some?

I AM NOT THANKFUL FOR MY LOUSY PING
Let us say that this ear of corn on the cobb represents the eternal bliss that is multiplayer entertainment, and yay, verily we are but each one kernel of corn on the cobb, where together we are whole. Now, let us say that this particular kernal is me. Note that it is not on the cobb. Instead, note that I am putting it on the plate and smothering it with a slab of canned cranberry crap. This represents my ISP. Do you see, my childen? Do you see my private pain? Watch what I do to my ISP with this dinner fork...

THOSE GIANT ANIMALS ARE ATTACKING NEW YORK CITY WHILE THE CAST OF THE TODAY SHOW REMAINS BLISSFULLY IGNORANT!
Good God I knew I shouldn't have stayed up all night playing Deus Ex and scarfing up Vivarin like popcorn at a movie because now I'm watching TV and there is this giant puffy Garfield hovering in the air attacking New York City while a band plays and my hands are shaking too hard to dial 911 and besides they never listen to me after that time I told them the Cyberdemon from DOOM was in my house I need another Mountain Dew to calm down.
The Daily Victim will victimize again on Monday November 27th. Happy Thanksgiving!
---

Hey, why not give Thanks to your favorite victims? Cruise through the archives and vote for ones you haven't voted for. According to our records -- and we watch you bastards like hawks -- only a fraction of the people who read this feature vote.
---
Score: 8.58; Total Votes: 1552 as of 2009-12-09.
---
---
Links In This Article