Players Have Yet to Discover That I Intentionally Set up My Unreal Tournament Server to Kill Them All in Embarassing Ways!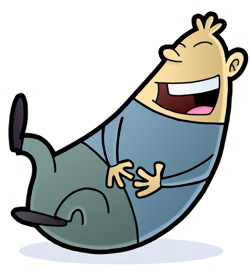 Hang on, I need a breather, my sides hurt. This is killing me! I had no idea I could maintain the charade for so long. Last week I set up my Unreal Tournament server to mess with their heads and, after a whole year of total stability, everyone refused to believe that I had done it on purpose. They would type "WTF?" as the wind machines would randomly throw their own flak at them and the body armor they put on would occasionally magnetize and stick them to the walls. And then I would type into the console, "Gee guys, I dunno what's going on!" You shoulda seen the looks on their faces!
Wait, hang on, it gets better. So, rumors start to spread on the newsgroups that someone hacked my server. Then, of course, people started rallying against the "cheaters" who were "ruining" the game! In the process, of course, my server became the most popular on the net. Sorta like people driving past the scene of an accident, or the guy who insists that you taste the milk that went sour. And I'd watch them try to play, and those chumps would yell in frustration as they shot shock rifle beams out of their butt, and then I'd push the "fill the level with acid" button and they's all be screaming and dying. "Oh no!" I'd type. "There's that pesky hacker again!"
I CAN'T BELIEVE THEY'RE BUYING THIS! I could do this for years! Nothing can stop me! Hahahahah!!

AT LAST, AT THE END OF A LONG AND WEARY DAY, I SHALL PUT MY MIND AT REST WITH A RELAXING GAME OF UNREAL TOURNAMENT ON MY FAVORITE, AND MOST RELIABLE, SERVER
Yes, yes, it hath been a good day indeed. I have finally gotten all of our servers restored to their 100% open-sourced serving splendor after that hideous chess debacle of some weeks back that brought our whole system to its knees. I shall now unwind with a refreshing game of Unreal Tournament, a rare treat for mine senses and an opportune time to relax my overtaxed brain. Ah yes, I shall load up GameSpy and click on my most favored of hunting grounds, a server I have trusted for nearly a year. Hmm. What have we? I'm firing my shock rifle and nothing is happening, although I hear the noise. What's this? Mine teammates are dead and broken behind me! Here now, I seem to be attached to the wall. Wait, the level, it fills with slime! OH IGNOMINIOUS DEFEAT! Wherefore has my server gone!? This cannot stand to pass! NO ONE DAREST PUBLICLY MOCK MINE UNREAL TOURNAMENTATIONS!
I shall put a stop to this miscreant server operator. See here now, I dual boot into Linux. Ah, heavenly scripting. Traceroutable glory. See here, here hmmm -- why, this reprobate runs his machiavellian hijynxs through my ISP! Thus making me an accomplice in his nefarious villainy! Hah, but that fool fails to realize I've coded back doors into every user account. I shall merely hack into his machine and restore his server to its unmolested state, that I and others may enjoy the fruit of Unreal Tournament in its virgin glory. Ah yes. Hack, hack, mine nimble fingers. None shall outwit me.

ACCORDING TO THE NEWSGROUPS SOMEONE IS DESTROYING MY FAVORITE UNREAL TOURNAMENT SERVER
Hello slowping! Do you see what has happened to my favorite server? After 344 days of flawless continuity, suddenly it's set up so that whirling blades come down randomly from the ceiling and slaughter us all. It is just as Madame Rochquet foretold! I see on the newsgroups that a hacker is responsible, and if you're smart like I am you know by now to believe everything you see posted. As the master of overclocking, nobody is better-equipped to end this fool's reign of terror! Watch as I telnet, now I am trying random passwords at an astonishing rate, ah! I'm in! Here is the server, and yes, look, there's somebody who just gave themselves admin access from a remote IP address. I have you now, hacker! Hand me the floppy disk with that virus I've spent the last 18 man-years coding at the assembly level... I'll bring this fool's entire network crashing around his head! This virus will utterly destroy him!

WHAT!?! MY ISP IS DOWN AGAIN?
This is ridiculous! Here I had finally made peace with my ISP and lo! Again, down it goes, down into the pit of hopelessless and forever without the conforting glow of the green blinky lights on my DSL modem. How does this stuff happen? And the timing couldn't have been worse, I was just about to log into my new favorite Unreal Tourney server, the one running the new mod wherein I can smite the unbelievers by shooting the shock rifle out of my hiney. The time for forgiveness has past; the meek shall now inherit. REPENT, ISP! I am coming again, and this time we finish it! Hand me my broadsword, desciple, the crusade begins anew.
---

Oh no, hang on, my server just went down. Oh. Crap, I was having a BLAST. Ah well, I'll just go on the newsgroup and blame it on those "hackers" that don't exist, and meanwhile I'll re-code the sniper rifle to electrocute its own user.
---
Score: 8.98; Total Votes: 2033 as of 2009-12-09.
---
---
Links In This Article