The Daily Victim Thanksgiving Special 2002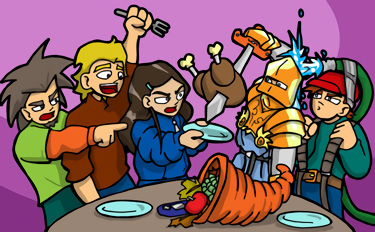 HEY COULD YOU HURRY UP WITH THE TURKEY THERE? OUR OLD SINISTAR ARCADE MACHINE SAYS THAT IT HUNGERS.

SORRY ABOUT THAT. I FILLED UP MY MARIO SUNSHINE HOSE DEVICE WITH GRAVY IN AN ATTEMPT TO BASTE THE TURKEY AND ACCIDENTLY SHOT THE BIRD OUT OF THE KITCHEN WINDOW LIKE A CRUISE MISSILE. IT'S OKAY, THOUGH, I'LL CLEAN IT OFF WITH A WATER SPRAY ..... OOPS.

I'M THROUGH WAITING FOR THE TURKEY. WHY NOT LET ME SAY GRACE SO WE CAN START EATING? I GOT A WHOLE GRACE SAVED AS A KEYBOARD MACRO. WATCH THIS: Heavenly Father, we thank you for your abundance, and humbly ask that you DEFEND THE FLAG AT THE UPPER BUNKER! HANG ON, MY FINGER SLIPPED.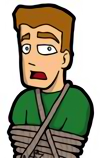 HELLO? GUYS? I CAN HEAR SOMEONE SAYING GRACE OVER MY PS2 HEADSET. ARE YOU EATING THANKSGIVING DINNER? I HAVE VERY LITTLE TO BE THANKFUL FOR. FOR OVER A MONTH I'VE BEEN TRAPPED IN MY APARTMENT WITH ONLY PS2 VOICE CHAT ON A SOCOM NAVY SEALS SERVER TO KEEP ME COMPANY. RANDOM PEOPLE ON THE INTERNET HAVE STARTED TO SEND ME FOOD, BUT I ASK YOU, HOW AM I SUPPOSED TO OPEN A TIN CAN OF CRANBERRY SAUCE? WITH MY TEETH? CAN'T YOU PEOPLE THINK? AH, I SEE IN RESPONSE YOU'VE DECIDED TO SHOOT ME AND PUT A SMOKE BOMB ON MY HEAD. I'LL TELL YOU WHAT YOU SHOULD BE THANKFUL FOR: BE THANKFUL I'M STILL TIED UP, SMOKE-BOMB MAN.

AYE ME MATIES! I BE THANKFUL THAT ME BATTLEFIELD CLAN HAST LEARNED TO TALK THE TALK OF SCURVY PIRATES, A REAL JIB AND BOON TO OUR TEAMPLAY, YAR.

WELL, AS ACTING QUALITY ASSURANCE LEAD FOR THE TURKEY HERE, I'VE GOT TO POINT OUT THAT THERE ARE SOME SHOWSTOPPER BUGS. FOR ONE THING, I'M GOING TO HAVE TO CARVE IT WITH A +2 HALBERD. FOR ANOTHER, IT'S MISSING A LEG. THERE'S JUST A WOODEN STICK THERE.

DUDE IT'S A PIRATE TURKEY.
[The Daily Victim will victimize again on Monday December 2nd.
Fargo and Hot Soup say: Happy Thanksgiving!]
---

I gotta say, this is one juicy turkey. Of course, the guy with the gravy hose over here might've helped.
---
Score: 8.01; Total Votes: 2012 as of 2009-12-09.
---
---
Links In This Article