No, sir. The Tingle is armed, and almost definitely dangerous. I think he's got a bomb.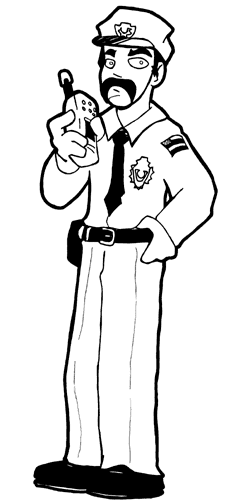 Sir, yah sir, I understand that an' all. We here at NorWest Security don't normally have a policy of requestin' backup. But I'd like to make an exception. As you know, I do not carry a gun. Furthermore, the lights on top of my cruiser are not actually hooked up. In fact, to make siren noises, I roll down the window and yell "wooo." For these reasons, my ability to intimidate unlawfuls is whatcha call lacking.
So I ask what I'm s'pose to do with this one: We have a man in a pointy costume thing who appears to have run amok. Haven't you been listening to the scanner?
That's right, I was called on the scene when he tripped off the silent alarm at the 7-11. Apparently he came in there with some sort of bowling-ball sized bomb with a sparking fuse and demanded a multi-colored "Magical" slurpee. Called himself "Tingle." Guy behind the counter says he had no choice but to do what the little man said. Yes, that's right sir, he gave him a slurpee. No sir, I don't reckon' it was magic, I think it was just one of them normal slurpees. 'Cept he prolly mixed all kinds of flavors up, like a rainbow. That's what I would do is all I'm saying.
By the time I got here -- yelling "woo" out the window as loud as I could, I'll swear on the Bible -- I caught the tail end of him jingling off into the woods. He took one look at me, threw some confetti in the air, and said "Fwoop." That's a fwoop, sir. F-W-O-O-P I'd imagine, but I didn't ask. And then he was off into the woods screaming something about Zelda and taking away his Tingle Tuner. I think he said "Fairy Boy will have hell to pay."
No sir. I do not believe he is an Iraqi.
Well, wait, hol' on. That's just what I did: I engaged in pursuit. Right up into the woods -- dark in there, I'll tell you something. But then he turned to face me and I saw he was armed. I think he had a boomerang.
That kind of situation calls for backup, you know what I'm saying? I ain't facin' down no pointy little men with potentially lethal weapons, when alls I got is a walkie talkie. I'm saying, you and me, we call in the SWAT team. Can I get a little support for that idea? Thankya kindly.
---

Hmm, the SWAT team won't answer? Well, can't we call in some kind of Special Forces? Maybe one of them British SAS teams. Yeh, I understand we're not in what you'd call Britain proper. But -- okay, I'll shush.
---
Score: 8.42; Total Votes: 1764 as of 2009-12-09.
---
---
Links to This Article
Links In This Article