I take issue with yesterday's assertion that my guild faked the EverQuest dragon-slaying.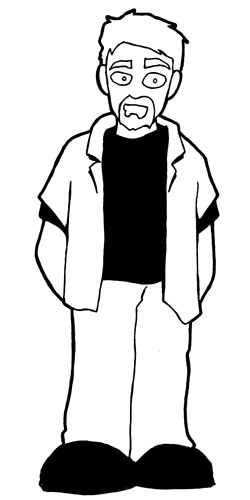 I'd like to gather everyone together to publicly rebut the claim made in yesterday's Daily Victim that my EverQuest guild, Archon's Minions, faked the slaying of Lord Nagafen the Fire Dragon.
First of all, let's be realistic: Why would a guild as powerful as ours go through the expense of faking a Dragon Slaying? Let's be sure to put these crackpot conspiracy theorists in their place!
Now let's address his preposterous claims one-by-one. Fact: Although the slaying took place on November 16th, the images were uploaded to our website from the various participants over the course of the next few days. Most were re-sized for the web, causing their file modification dates to be altered; hence the discrepancy.
You'll also note that Bloodsaage the Warrior from our guild plays from a different time zone than Keela the Cleric. If we adjust for the time differences, his screenshot was actually taken at 5:38 PM, 16 minutes after Keela's screenshot of BainDramage the Dwarf coming in and introducing himself. So there's nothing out of the ordinary in those images -- Another piece of "evidence," obliterated in the face of cold hard facts!
Thirdly, let's talk about the shadow placement that my esteemed accuser makes such a big deal out of. Note that Whizzbenger the Cleric is enjoying the benefits of a Levitation spell! This explains the unusual positioning of the shadows in the screenshots.
Now then, lastly, I'd like to offer incontrovertible evidence that we did, in fact, slay Lord Nagafen the Dragon. BEHOLD! THE BLADESTOPPER SHIELD! Only Naggy drops this, hence, Archon's Minions had to kill the dragon. What does your guild have to say about THAT?

THAT'S VERY CLEVER, VERY CLEVER INDEED ... BUT HOW DO YOU EXPLAIN THIS EBAY AUCTION RESULTS PAGE?
According to this archived page my committee dug up, just two weeks ago a Bladestopper Shield was sold to Ebay account "a_minion" for an undisclosed price. I contacted the seller and discovered that the item was in fact sold in exchange for ... a HUMAN BABY!!
Now, according to your Guild's message board, one of your members recently had a baby. That was a month and a half ago. Then, two weeks ago, all mentions of the new baby suddenly and inexplicably ceased. What I'm getting at, my good Minion of Archon, is this: we'll all believe your Dragon-Killing story ... IF YOU CAN SHOW US THE BABY.

UH .... THAT BABY UH .... HE UH, HE HAS A COLD RIGHT NOW... HE CAN'T COME TO THE WEBCAM, OTHERWISE I'D SHOW YOU ... THE BABY. LOOK I HAVE TO GO.
---

It's hard to run a big guild without people trying to pass judgements on you all the time.
---
Score: 8.49; Total Votes: 2457 as of 2009-12-09.
---
---
Links to This Article
Links In This Article