A true Internet entrepreneur can really profit from someone like 'Tied-Up Guy.'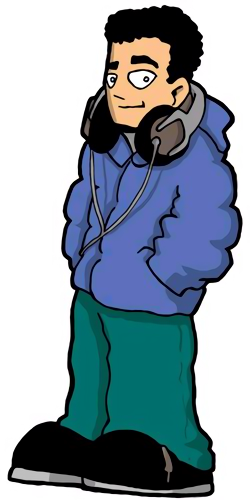 After I discovered that PS2 SOCOM Navy Seals server with the Tied-Up Guy on it, my love-thy-neighbor set of values were completely overrun with good old American Capitalist instincts. Thanks to cash services like PayDar and Internet instant-tee-shirt sites, I was able to start selling "I fragged Tied-Up Guy" tee-shirts. It was pretty easy to frag the tied-up guy ... mostly, all he did was stand there. Sometimes he'd wiggle. When you shot him, he'd make some snide remark or start to cry.
I sold a lot of tee-shirts.
But, I didn't stop there. I made up "I put a smoke grenade on tied-up guy's head" mousepads, and those things really moved. Then I started selling "Tied-Up Guy" sweatshirts, that had a pattern of ropes printed around them -- HUGE, man, huge. I'm bringing in like $480 a day. I'm trying to figure out a way I can sell little voice recorders, some electronic gizmos that you can hold up to your SOCOM headset and press the button, then they'd say some classic Tied-Up Guy phrases that I recorded. Like, "Please help me, I need some water" or "Hey, instead of putting another smoke grenade on my head, maybe you should try CALLING THE POLICE!?" (followed by sobbing.)
After a day or two I began to worry, because it seemed like Tied-Up Guy was running out of energy. I figured I'd share the profits a little, you know, to keep him going. So I wrote down the address he suggested and called up Information so that I could find the nearest pizza delivery place. I paid by credit card, gave 'em a big tip, and told 'em to just slide the pizza and soda in through the window. I also mailed him a check, you know, since I figure you gotta pay your talent. Capitalism is a fine, fine thing.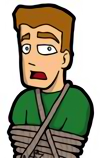 OKAY DO YOU GUYS KNOW HOW HARD IT IS TO EAT A PIZZA WITHOUT YOUR HANDS? OR HOW DIFFICULT IT IS TO OPEN A SIX-PACK OF SODA WITH NOTHING BUT YOUR TEETH? I'LL TELL YOU, IT'S NOT AS HARD AS YOU MIGHT THINK IF YOU'VE HAD NO NOURISHMENT FOR TWO DAYS EXCEPT FOR A FISH-BOWL FULL OF WATER. I SEE ONE OF YOU WAS ALSO KIND ENOUGH TO MAIL ME A CHECK FOR TWO GRAND. THANKS, GUYS. NOW, MIGHT I ASK, HOW AM I SUPPOSED TO SPEND IT? YOU KNOW WHAT, DON'T ANSWER THAT. JUST SHOOT ME AND PUT A SMOKE BOMB ON MY HEAD. HAH HAH. YOU'RE PROBABLY THE FIRST PERSON TO THINK OF THAT ONE, KILLER.
---

Hey, there's an idea. What if I sold Smoke Bombs with Tied-Up Guy's name on them? Suhweet!
---
Score: 9.06; Total Votes: 1938 as of 2009-12-09.
---
---
Links In This Article