All right! 'Tied-up' dude is back online!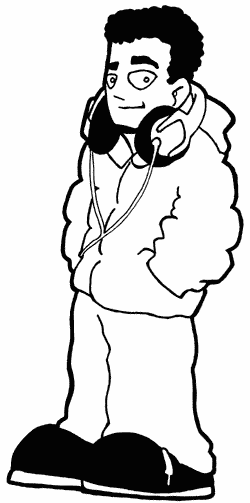 Hey, cool! My favorite guy is still on this PS2 SOCOM: Navy Seals server. Yeah, there's this dude who I ran across yesterday trying to convince us that he's tied up on the floor of his living room and wants us to call the police.
No, he doesn't play -- well, sometimes he sorta moves around or squiggles back and forth. No, the hysterical part is the stuff he says over the microphone as we play. Here, put on the headphones.
See? Classic! His schtick today is about how hungry he is. Earlier he was talking about desperately licking the condensation off of the side of his fishtank in a last-ditch attempt to hydrate himself.
So I says to him, "C'mon man, just drink it up. A little fish ain't gonna hurt." Then I heard this big splash -- oh man, that guy kills me. He's like some kind of performance artist. Where does he come UP with this stuff?
Late last night he announced he was going to try to squirm over to the kitchen phone and if we didn't hear from him in a couple of hours to call the Massachusetts police. So, then, for the next hour over the microphone all I could hear was this thumping and squirming noise -- and eventually some sort of loud crash. And this tiny voice shouted "I'm okay! It's allright, I'm okay -- none of the knives fell on me." Man, we were howling. The guy running the game renamed the server to "Guy on the Floor LOL" and it's been packed for like 24 hours straight.
Sometimes we all just stop playing to talk to him. Wait, he's talking again...

OKAY LISTEN TO ME, PLEASE. EVERYONE? I'VE MEMORIZED YOUR VOICES. AFTER I GET RESCUED, I'M GOING TO HUNT YOU DOWN. ALL OF YOU. AND I'M GOING TO KILL YOU. ONE BY ONE. AND THEN I'M GOING TO PUT SMOKE GRENADES ON YOUR BODIES, BECAUSE THAT JOKE NEVER GETS OLD. NO, IT NEVER DOES. OH LOOK, SOMEONE'S DOING IT AGAIN. WHOEVER YOU ARE? I'LL KILL YOU LAST.
---

Oh MAN! Now he's going to kill us! Dude, that guy BUSTS me UP.
---
Score: 9.13; Total Votes: 2530 as of 2009-12-09.
---
---
Links to This Article
Links In This Article