Daily Victim: Kung Fu Theatre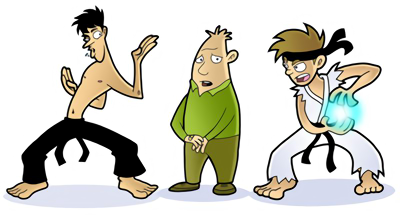 THAT MEAN PERSON IN THE WHITE TORN TEE-SHIRT AND BLACK HEADBAND HAS TAKEN MY LUNCH MONEY FOR THE LAST TIME
I mean it this time. I know I said that last time, and the time before, but this time, this time I honestly intend to try my best to make sure that the mean person doesn't take my lunch money. Even though he's bigger than me. He's a senior in high school, and they're always tough -- even though I'm several years older and almost done with college. Every time I go to the video arcade, he comes up and threatens to go down downforward forward punch at me, and I have to curl up into a ball in the corner. People Say I'm wimpy. I must learn to fight! I'll seek the advice of the reclusive master who lives in the dojo down on Sullivan street, the one who writes the Dreamcast strategy guides and refuses to talk to anyone.

AH, LITTLE ONE! WISH YOU LEARN THE WAYS OF THE FOOT OF FURY? BAH! I AM A MAN, SO VERY OLD. GO YOU NOW!
For one so young remain you mellow. Perhaps -- wimpy. I shall call you Grassmoker. You want to know Foot of Fury? The ancient art of tapping back back forward + kick? I cannot teach you! Defeated was I. Someone Stole My Foot! Someone Stole My Fury! But wait, stay, Grassmoker. What is that I see in your eyes? It is eye of snake! Sting of cobra! Fur-lined mittens of tiger! Very well, I promise teach Foot of Fury, that the student may regain the honor of the master. But little Grassmoker, you must do as say I. First, get me through this really tough part of Echo the Dolphin. Next, you spend many hours training by stealing weapons for me in Phantasy Star Online. That's right, adventure go you, now, look, that player just died? Take his weapon and log off immediately. Log on, log off. Log on, log off. You train well. Log on .... log off.... Soon Grassmoker I promise teach you foot...

HEY WIMPY KID! I HAVEN'T SEEN YOU AROUND THE ARCADE LATELY. WHAT'S THE MATTER, RUN OUT OF LUNCH MONEY?
Hah hah hah! How's it going, wussboy? What's that around your waist, a kung fu belt? A blister on your thumb? Have you been training? You think you can possibly defeat me? Dude, need I remind you that I can, at will, get all up in with the down downforward forward strong punch on your ass? That's right, and I'm not afraid to do it! So train all you want, maybe you'll show up at the bi-weekly Turbo-Fighting tourney at Palace Park Amusements, so I can cut loose my Hadouken and bust it down in front of everyone. Hah hah! All your base are belong to me!

YOU NOT TRAIN HARD ENOUGH! IT IS THE FOOT OF FURY! NOT THE FOOT OF FURTIVENESS!
Listen! Listen to master or suck it up with low health bar! We train fast and hard like way I drive razor scooter. Up stand you! Ready? Assume the position! Back, Back, FORWARD+KICK! Back, Back, FORWARD+KICK! Back, Back, FORWARD+KICK! DO NOT LOOK AT CONTROLLER, GRASSMOKER! Look at opponent! Tournament is almost here, Dairy Queen Gift Certificate up for grabs, and yet learn you not the FOOT of FURY! Too late to flee to Mexico! Back, Back, FORWARD+KICK!

HAH HAH, LOOK WHO SIGNED UP FOR THE TOURNEY, WUSSBOY AND THAT OLD HAS-BEEN FROM SULLIVAN STREET
Hey, old man, you beat Echo the Dolphin yet? Gonna write a strategy guide about it? You ain't been nothing since ol' Chen booted you with your own foot of fury. Hah! I can take you down, AND your little pipsqueak with the band-aid on his thumb. Hah hah! Bring it! FIII-YYER!

HE'S NOT FAIR! HE CAN THROW FIREBALLS FROM HIS HAND! WHAT CAN I DO, MASTER?
Please master, what can I do? He's forcing me in the corner and I'm blocking. Woe is me! Now I'm gonna end up forfeiting my entrance fee, AND my lunch money. Oh no, he's running toward me! I must use the foot! The foot of ... Rage! Er -- something. It's like -- I push the joystick and then I need to down -forward, or the forward back and the up, or the -- the kick and the down and the -- no no -- I uh -- oh -- He's right on top of me!!

IT WAS ANOTHER FREAKY DAY AT THE HOSPITAL, BELIEVE YOU ME.
Yeah, so, I guess there was some kind of brawl at Palace Park Amusements, so the kid told me. Anyways, that was his story. And sure enough, the clinic had admitted this kid with one shoe, and here was this guy in the emergency room who couldn't even stand upright 'cuz of something lodged in a private place. Yeah, give ya two guesses. Kids these days, it's like they don't even KNOW about the block button.
---

Kung Fu Theatre is sponsored by PrizeWire.com, home of Pookie the PrizeWire Koala Bear! The .com market has not been kind to us, but we already paid for this advertising space, so we're using it. Please, send us money or Pookie will die.
---
Score: 8.19; Total Votes: 1267 as of 2009-12-09.
---
---
Links In This Article