Hey! That Was My Foot! That Was My Fury!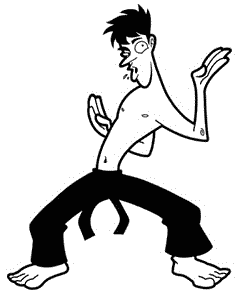 Fool! As you and I both know, tapping forward+kick slams down the boot of righteousness. But until now only I have been able to gain complete mastery of the FOOT OF FURY. Hear me now as we begin round 1 -- FIGHT! I slide forward with a double tap! Will I sweep the legs? Oh no friend, I don't fight low. I merely stand upright, raise my leg, and BEND YOU with the FOOT flying down from above! It is the Foot of Fury! With leg high I mark my territory as a puppy in the woods!
My Foot of Fury cannot be descirbed in a short phrase unless that phrase contains the word "devastating" and is pronounced while wincing.
But now, as we begin round two, you and I charge toward one another in what would apparently be a repeat of your same ignominious defeat. But, as I tap forward and prepare to press kick, what is that I see? A boot? On my head? A foot? A FOOT!? Hurling me to the arena floor like sack of turnips!?
That was MY foot!
That was MY fury!
You pantomiming bitch! You may have mastered my technique, but you will never possess ... MY SOUL!!
---

...Best of 3?
---
Score: 6.41; Total Votes: 1325 as of 2009-12-09.
---
---
Links to This Article