What, me? Carve the turkey? Well, I guess I got the skillz...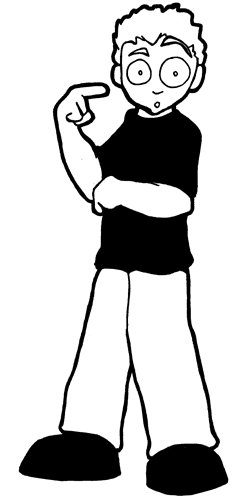 Sure, I suppose I can use my expertise to carve up this here bird. Since dad still has the bandages wrapped around his head after that incident with the grenade.
I'll just apply what I know about gaming here and ... Hmmm. Well, this knife ought to do. It's big and serrated with a leather grip, just like the commando knife I looted from that body in Dues Ex: Invisible War. So, uh, white meat? Dark? I'm not really sure how to go about this. I guess I'll just take the combat knife here and ... hmmmm...
[Pause.]
STAB! STAB! STAB! STAB! STAB! STAB! STAB! STAB! STAB! STAB! MANGLE! STAB! STAB! STAB! STAB! STAB! TWIST! STAB! STAB! STAB! STAB! STAB! STAB! STAB! STAB!! STAB! STAB!
[Pulls out a grenade and stuffs it into the steaming carcass]
FIRE IN THE HOLE!
[Chairs scuff the floor as family members dive for cover. A popping sound is followed by silence, and then the ringing of ears. The light is blinding, a searing circle of white flame pockmarked with blurred streaks of flying debris. And stuffing.]
*     *     *
What? Hello? Where am I? Everything is white. And there's smoke, and fog. Why is my face wet? What's this? Red? Red goo!? OMG, I'm dead. That turkey took me out. I'm stumbling through the fog!
Hello? Is anyone here? All I hear is the ringing. Is it bells? A choir? Wait, no. There's ... a techno backbeat. Up ahead! A glowing light! It's ... a widescreen television. My God, it's an Xbox. It's connected to Xbox Live.
It's playing Project Gotham Racing 2.
I guess ... I'll just pick up a controller. This is amazing. I'm racing. I'm racing ... and the connection is silky smooth. I'm in heaven. I'm going to play videogames for all eternity.
Wow, look at that guy in the Porsche go. Well, I'll get him on the next curve. No, he took it perfectly. He'll pulling ahead of me. Well, he can't handle the S-curve switchback at that speed. Whoa, he's powersliding. I can't keep up with him. He just tore out of there at over 100 miles an hour! I can't come close! I can't touch that guy!
No ... no! It can't be! I'm in hell!! Do you hear me world? I'm in hell!!

Bro? Chill. This is our living room.
Yeah, that was a flashbang you stuffed into the turkey. The smoke is only now beginning to clear, and you're sitting here whimpering and playing our Xbox. Meanwhile, Dad is huddled in a corner having Gulf War flashbacks and the dog went through the window. And for God's sake, clean yourself up -- your face is covered in cranberry sauce.
---

Well that's a relief. But that doesn't explain this guy's insane Gotham skills. They're not of this world.
*Slurp*
Good cranberries, though.
---
Score: 8.32; Total Votes: 2362 as of 2009-12-09.
---
---
Links In This Article