In PlanetSide, I've perfected a new type of class. "Support Slacker."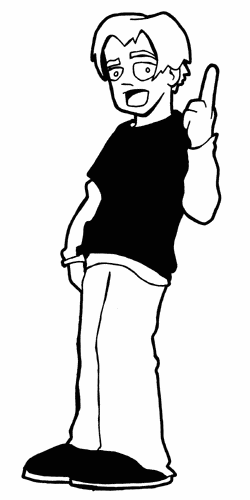 A lot of people take PlanetSide pretty seriously. As a massively multiplayer first-person shooter with three big factions, I admit, you do get to be pretty attached to your team. And within every team, you need people in specialized roles. That's me. I'm a specialist.
And I've developed a new position. I call it, "The Support Slacker." Recently I've graduated to "Heavy Support Slacker," which appears on the surface to be even more useful. More on that in a second.
Here's how it works. You jump onto a server and announce that you need a squad. All you have to do is hang out at the sanctuary for a little bit -- and believe me, I'm really good at hanging out -- and soon enough you'll be invited to join.
Anyways, your goal as a Support Slacker is to give your team the self-confidence it needs in order to take over bases and give you mad experience. I'll drive up in a dune buggy, freewheeling outside the enemy base, while my guys storm inside. Then I get up in the rocket turret and chill for a while. Sometimes I reach into the mini-fridge next to my PC and grab a pudding cup. The whole time I just watch the experience roll in.
I've never fired a single shot.
As a Heavy Support Slacker, I'm even more imposing. I earned the license to drive those big tank things. I'll rumble up to a squad in the tank and I'll say, "Heavy tank, ready for action!" Who doesn't want one of those in their squad? Last night I drove from enemy base to enemy base in a tank for three hours while my guys earned me experience. I cheered them on by typing pep talk into the squad chat in-between dipping the Oreos I was eating into a glass of milk.
I'm a veteran of hundreds of battles, with tons of experience. On more than one occasion, I think I even saw an enemy troop -- although he was so far away, I might have been mistaken. Nonetheless, I've created a special insignia patch for myself and others of my ilk to wear with pride. It's a bright red circle with a picture of a sponge inside.
Slack on, you crazy child.
---

If you'll excuse me, we're about to launch a massive assault on the Searhus continent. So I plan to take a little nap.
---
Score: 8.54; Total Votes: 2852 as of 2009-12-09.
---
---
Links to This Article
Links In This Article