Believe tha messageboardz: My PlanetSide faction wi11 CRUSH J00!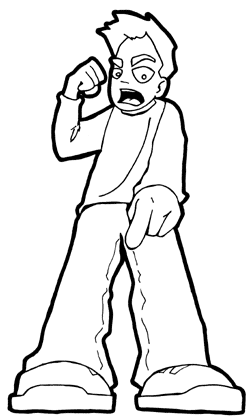 my peepz N tha New Conglomerate R a11z about tha MAD STYLEZZZ
we w1ll oWnzj00 wit tha mad blu suits N sweet ass sweet dunebuggiezz
j00 suk N ths hole msgbrd nowz it
Terran Rupublic punks R llamerz ther msgbrd bitez azz
Vanu Sovereignty blowz chunkzz W3rd!
whn PlanetSide comz out j00l see how New Conglomerz peeps wreck j00 all wit 10 flavahz of hurt we R tha ICEY HOT GANGSTAHZ
w3rd 2 my peepz! New CG! New CG!!!!!! pce out

I WOULD LIKE TO TAKE ISSUE WITH THE EGREGIOUS CLAIMS YOU'VE MADE IN A PUBLIC FORUM AGAINST THE TERRAN REPUBLIC
As a so called "punk" who will be participating in the military campaigns of the Terran Republic in the upcoming PlanetSide game, I would like to respectfully disagree with the comments posted onto this board by Guest3543.
As you can see by the manifesto on the website, the Terran Republic is dedicated to preservation of order and maintenance of peace and prosperity -- values that hardly "bite azz" when viewed objectively.
The poster also inferred in his writing that the skills of the Terran Republic would be sub-par when held against that of the New Conglomerate team. Again, while it is purely speculative, I would be inclined to disagree. Terran Republic trucks with both rocket launcher and machine gun mounts are capable of such ferocious acts of destruction that any significant action on the field of battle will cause even hardened New Conglomerates to call into question the very ICEY HOTNESS of which they boast.
Totally agree about the Vanu Sovereignty smacktards, though.
---

did U jes dis me? aftr scool tmrw I w1ll wreck j00.
---
Score: 7.6; Total Votes: 2876 as of 2009-12-09.
---
---
Links to This Article