Dance Dance Story: A tale of love and phat beetz ends.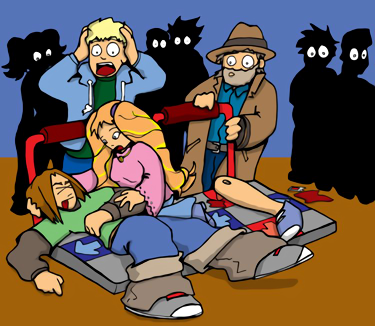 [The conclusion of Dance Dance Story. Start at the Beginning!]
Hello, ladies and gentlemen, hello and welcome! We're broadcasting to you LIVE from Palace Park Amusements in Irvine Place Mall, where the Spring Seasonal Dance Dance Revolution tournament is about to take place.
Two teams of heavily funkified dancers arrived on the scene this morning, having earlier formed up into lines and shapes and then danced while aggressively snapping their fingers to an intense orchestral song. They then sang a number, taunted each other in rhyming musical couplets, and then broke into a piece of choreographed chaos where they did flips off of the mall railings and decorative pillars. Two of them danced a number in the fountain, while several others formed a human pyramid and sang about love.
But now they've come together in the mall for a final showdown, a clash of the titans if you will. If you just joined us we're broadcasting LIVE from Palace Park Amusements where Team ShakaBooty from the East Side of the mall is about to attempt to out-dance Team ManyMojo from the West Side of the mall in Dance Dance Revolution's "Perfect Attack" tournament mode.
The big story this morning, though, revolves around two star-crossed lovers, Julio and Violet, dating each other from opposite teams -- information we gleaned by hiding a microphone in the Whattapretzel stand. And wait, here he is now! Here he is, the man himself Ladies and Gentlemen, the archetypical lover, JULIO of Team ManyMojo. Julio, Julio, how do you feel going into this intense competition? Is it true you're going to try a near suicidal dance move in tournament play?

IT'S TRUE: I WILL ATTEMPT THE CHALLENGE X-MEISTRO DOUBLE DROP REBOUND FLIP OFF THE BACK BAR.
You may ask yourself, how I plan to pull off a move that's never been performed in public and has taken the lives of over 60 competitors worldwide in the last year and a half alone. How? LOVE baby! I'm lit with the passion of cupid's arrow, and nothing can stop me. Wait, Violet, what are you doing here?

STOP THE BEATZ! I'LL BE DANCING FIRST, JULIO...
Give me that microphone -- hello? Hello? Am I on? Ohmigod like HI BRITTNEY! But anyways, before Julio tries his double-drop dealie, I'd like to announce that I'm going first. And I will be turning to ... THE PARANOiA SURVIVOR MAX MIX WITH SHUFFLE REVERSE x5!! Don't try to stop me, Julio, my mind's made up!

LADIES AND GENTLEMEN, IT'S DANCE DANCE PANDEMONIUM HERE AT THE MALL
That's right, and you're tuned in LIVE as it all goes down, a tragedy played out on the button-pads before us, Julio and Violet are arguing over who will get to go first and -- wait, wait, the judge is stepping in, the Minstrel of Ph4t B33tz himself -- there's a hush over the crowd as he talks privately to the dancers. And they're coming out of the huddle ... neither looks happy, hold on, we're waiting for a confirmation. Yes, YES ladies and gentlemen, Julio and Violet will be dancing against one another, dancing to the nearly impossible PARANOiA survivor Max mix with shuffle reverse x5. Side by side, they'll be dancing together. They're stepping up to the machines ... wait for it, wait for it ... and yes, the music is starting!
Good God almighty, that staccato whirring noise you hear, like a deck of playing cards taped to the spokes of a motorbike, is actually the backbeat. I hope you can hear the sound of my voice among the horrified screams, many of the people in the crowd are covering their eyes. The star-crossed dancers are beginning to furiously sweat. Their legs are a blur and the arrows on the screen are blinking like strobe lights. No human can POSSIBLY endure this torture, and yet there's two of them, they're dancing -- OH - EM - GEE! They're holding hands! They're holding hands, dancing to an impossible song, and wait, the climax is coming, Julio is preparing to do the Challenge X-Meistro Double Drop -- WAIT!
Violet wiped out! Violet wiped out, sweet mother Mary, she dropped to the floor and I believe that HER LEG ACTUALLY FLEW OFF, her leg flew off and it appears to have hit Julio in the head -- Julio is down, I repeat, Julio is down, there's blood everywhere smelling suspiciously of barbecue sauce, and the two lovers are sprawled over the dance platforms in a twisted mass of soaked, wretched limbs.
And amidst the chaos, there appears to be a bum pushing his way through the crowd -- no, wait, he's got a mail-order medical license, he's a Doctor-Bum, which I'd like to point out would make an excellent premise for a sitcom.
He's surveying the carnage, Violet is wailing and crying, Julio is very still -- and now the bum has pronounced Julio dead at the scene, Julio killed by a flying severed limb, people are reeling in horror! And now Violet, she's picking up what looks like her own leg and ... SHE'S JUST COMMITTED HARI-KIRI WITH HER OWN LEG, I don't know how it's possible but the two lovers are both dead and wait -- wait a moment -- the bum appears to be OPENING HER LEG AND DRINKING WHISKEY FROM IT. And now he's addressing the crowd:

[Burps Loudly]
Boys and girls, I'm responsible for the tragedy you see before you. But then again, I don't know why she listened to me. I'm just a bum. And a drunk. Hell, this fake leg I gave her isn't even mine. I stole it off of some kid in a wheelchair. I mean, come ON people, the kid had a wheelchair AND a fake leg -- like, make up your mind, you know what I'm saying? I'm medicated. Anyways, basically, I just put this crazy scheme in her head so she would give me a quarter, which I used to buy a slushie. Now they're both stone dead. And I'm taking my leg back. Goodbye.

I CAN'T BELIEVE MY EYES, BUT LOVE IS IN THE AIR ON THIS TRAGIC APRIL MORNING
You're listening live, ladies and gentlemen, as the weeping dancers from both teams are holding one another. The leaders of Team ShakaBooty and Team ManyMojo, they're -- this is unprecedented! They're shaking hands, they're hugging one another, they're declaring the dance-feud over. In the confusion, nobody seems to notice the Minstrel of Ph4t B33tz quietly taking the bodies away. A scene of terrible tragedy and yet bright uplifting hope, here at Palace Park Amusements. And that ends our live broadcast -- thank you for listening -- back to the studio!

IT WAS A TALE OF LOVE. BUT IT WAS NOT A LOVE STORY. IT WAS A TALE OF WAR. BUT IT WAS NOT A WAR STORY. IT WAS THE DANCE DANCE STORY. BUT IT DOESN'T END THERE.
Sway with my beat now, children. Because that's not the end of my story. Like the rhythm, my story does not end. It didn't end there at the mall. And it certainly didn't end at Julio and Violet's joint funeral, where I flung open both coffins and they were empty. Maybe I was not so hasty by arranging that they dance against one another in the tournament ... or perhaps the bum was not who he appeared to be.
Somewhere, children, there's a smoky room. Illuminated by the soft glow of a hundred whirling glowsticks, and by the brilliance of a beat that doesn't die. And in this groove, Julio and Violet dance together, forever. And above them, on a platform illuminated by flickering arrows, dances the Mastah. He may be easily mistaken for a bum in his mask and trenchcoat, but do not be fooled, my sons and daughters. He is the Dance Dance Revolutionary. And when he moves ... it's a movement.
You may now commence with the chillin'. And I will spin in silence.
---

[Author's note: for the record, the only rhythm game I was ever good was was Samba De Amigo. see for yourself!]
---
Score: 8.64; Total Votes: 1858 as of 2009-12-09.
---
---
Links In This Article