This Weekend's Tribute to the Armed Forces Will Take Place in My Bathtub.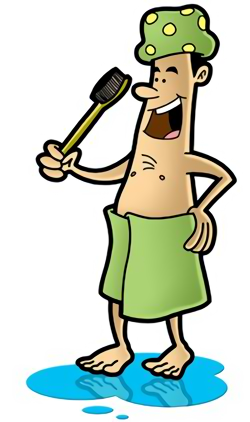 Hallo friend! Pardon me, I'm about to hit the bath. You may have noticed I've been on edge all week -- it all started with that disaster in the shower and the discovery that my son runs some sort of 'Internet EverQuest porn ring' from our basement. Well, that certainly had me stressed. But this morning I called our service provider and solved our problem once and for all.
Now if you'll excuse me, I'm going to finally finally unwind with a nice hot bath (no more showers for me), where I plan to celebrate this fine Memorial Day weekend by re-enacting the attack on Pearl Harbor in my bathtub.
Don't disturb me; after last week's events, I'll be glad to finally take the edge off. This is a bath that will live in infamy!

DUDE, I CAN'T GET ONTO EVERQUEST 'CUZ DAD SHUT OFF OUR ISP
...and it's killing me! Even as we speak my guild is going to take on the Plane of Fear. And where am I? I'm stuck here in the basement staring at a computer that's all but worthless without my DSL. Now, there are a couple ways to solve this. I could move out of the basement, but that would require rent money, which would require a job, and that would kinda defeat the whole purpose.
So I came up with a backup plan thanks to my buddy next door. You know Tony Kawai? Japanese kid who went to high school with me? Yeah, cool guy. Has a sweet cable modem setup. His parents barely speak a word of english. Anyways, I gave him my entire Sega Genesis collection, and in return -- as soon as my dad's not lookin' -- we're gonna string a coaxial cable across the back yard and hook me up to his hub. I'll be able to resume my 24/7 EQ binges. Tony's a total lifesaver.
It was tough to give up my Sega Genesis, but hey, you know, you gotta grow up sometime, right man? Whoa, I hear the bath water running. Now's our chance!

NO! NO YOU DIRTY BASTARDS! NOT BATTLESHIP ROW!
You Jap sonsobitches, not the battleships! Ker-SPLASH! Blooo-sh! Ohh-ooh! The cold cold Pacific shows no mercy. Dammit men, to your posts! To your posts! Man the guns on the Raleigh, the Detroit, and, uh this rubber duck, here. BLAM BLAM! SPLOOOOSH! Aiiiee! You dirty bastards, come hell or high water, you'll never kill Cuba Gooding Jr.!
Hrm, what's that noise outside? Someone sneaking through our yard downstairs? Well, we'll just have a little look-see through the window... What's this? That's my son down there alright, and it looks like he's ... he's stringing some wire up to our house ... WITH THE JAPS! I think they're gonna blow this place sky high. NOPLACE IS SAFE! Well, we'll see about that -- what would Cuba do? ... ah, gimmie a bucket...

EXPLAIN IT TO TONY'S PARENTS? HELL, I COULDN'T EVEN EXPLAIN IT TO THE POLICE.
I mean, one minute it was all going according to plan. Then next minute, Tony's drenched with soap in his eyes running around the yard screaming, and there's my dad, standing naked on our roof, waving the Stars and Stripes and singing God Bless America.
---

If it's not Internet pornography, it's bombings. What's a good redblooded American to do, you know?
---
Score: 8.53; Total Votes: 1926 as of 2009-12-09.
---
---
Links to This Article
Links In This Article