Hot Diggity! This New Matrix Action Figure Sitting on Top of My Monitor Will Affirm My Status as a Badass!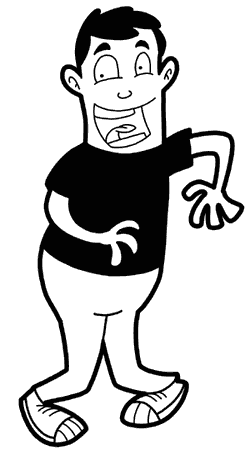 Oh yes indeedly! Thanks to the Secret Santa Giveaway at work, I now have a sniffy new Action Figure of Morpheus from the Matrix! You know, the dude with the pills?
Let's see, he comes with a shotgun and a mac-10. Which will most effectively broadcast to the world that I am in fact a badass when I set him on my monitor? You can't make these decisions lightly!
The guy in the cubicle next to mine suggests that I put one gun in each hand. Bah! That would be so excessive as to dilute the effect -- it would make it seem like I was trying to look like a badass, instead of revealing to all within eyeshot the fact that I truly am a badass. But what does he know? He just plays Asheron's Call all day.
I've got it! I'll definitely use the mac-10 in his right hand, with his finger not even on the trigger, like, you know, he just knows he's got the powah. Then, I will raise his left hand out like so, in a sort of conciliatory gesture, palm upward. Sorta like he's saying, "What? What? You want some of me? You want this?" Yes -- yes, that's it. Now he is the perfect plastic representation of my ass badness. He can go here, next to the stuffed Pikachu.
Nobody will mess with me now.
---

Hey, stop shaking the cubicle wall over there! You may dislodge the Morpheus, and he might have to get all you-think-that's-air-you're-breathing on your ass.
---
Score: 7.76; Total Votes: 1341 as of 2009-12-09.
---
---
Links to This Article
Links In This Article