Many Would Be Stunned or Horrified by the Sight of My "Tribes Hand," but I've Started to Grow Quite Fond of It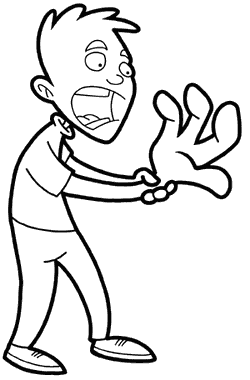 Well, I've got a Tribes hand. Tribes Hand, rather, with a captital "H." As far as I know, it's the only one. I've grown sort of fond of it. I don't even let myself wank with it. Because it rules.
History of the Hand: I get a job at this nice little ISP called Laker.net. One prerequisite besides all of that mumbo-jumbo about knowing your stuff was being able to play Tribes. I'm serious. They had Tribes hour; 5-6 was a paid hour of Tribes, every day. Addiction incurs.
I leave the job, I move to college, I still play. I fiend. I see my super elite HUD mod when I'm awake, I see those poor Scouts crumbling from my rail in my sleep. I doodle the Starwolf logo during class.
Well, that was then. And now there's now, where I'm too busy to care (thanks a lot, education), but I've still got the biggest thing to come from Tribesing-- the Hand. That's right, I've got THE HAND. So basically if you look at my right hand, on the part where one would receive a karate chop or some such blow, it's about three times wider than my left. And I'm left handed, so it didn't grow from the lovin'. It's 100% pure Tribes-developed muscle.
And I bet I could crush stuff, too, if I hadn't been trained to exercise complete control through sniping. Oh yeah.
You get the picture. I'd scan it for you if you like, but I'd feel dirty.
[Victim idea submitted by GameSpy reader: Matthew Tucker. Actually, more than that, most of his email was copied verbatim. This is a true story. I find that horrifying.]
---

I'm looking for ways to use my Tribes Hand to further my career. So far my only lead is as assitant spanker at the bondage restaurant down the street.
---
Score: 7.48; Total Votes: 1163 as of 2009-12-09.
---
---
Links to This Article