What hideous depraved intelligence is concocting such a grotesque perversion of Starcraft strategy, and why is it working?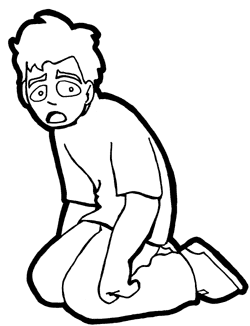 I moved forward with my marines and a swarm of Goliaths, only to find a group of Hydralisks up on the hill. Certainly this was a key point; I couldn't figure out why else he had such heavy guard there. I skirted around the side with a swarm of tanks, a daring gambit that left my secondary base undefended, and I cleared out the area ... only to find that it was empty. In fact, the clifftops were a complete dead end.
And then he came after me! A swarm of Ultralisks tromped up the hill -- it was hell off Earth. The explosions, the brutality, the splattering, the screaming marines -- they kept coming, while I was trapped in that dead end -- why was he after that hill? I pulled back what few forces I could get out of there and let him have keep the area.
I thought I had him figured out when, moments later, he moved in with a swarm of Mutalisks backed by a ground assault, heading right toward the mountain pass between my two bases. He intended to split me in two! Of course! That whole empty cliff was just a ruse, right? I put my tanks into siege mode and my marines hunkered in their bunkers when the charge came. Missiles flew from all sides, and for several minutes the combat raged, but his ruse had spread me too thin. My bunkers were popped open and destroyed, my missile towers disappearing into columns of flame. I was left wide open!
And then ... he stopped. He lined up his Zergs into weird formations and then waited. Frantically I moved my bases away from him to another part of the map. I tried to wait him out, but every time I scooted my ghosts closer he was grouping his Zergs in places I'd never expect. What hideous hellspawned secret strategy is this? The other players are as baffled as I. What monstrous scheme is he planning? What's going ON here?

I'VE SPENT THE LAST HOUR AND A HALF MAKING MY UNITS SPELL OUT MY NAME ON THE MINI-MAP, AND FOR SOME REASON EVERYONE'S ALL FREAKED OUT.
[Victim idea submitted by GameSpy reader Sam Sutton.]
---

Okay, this is the last assult I'll be able to make. Let's move in, boys! Keep going! Faster, faster! We're through -- there's his base and ... and ... there's nobody guarding it? Oh man, I don't know what just happened but I think I mafe a colossal mistake. RETREAT!!
---
Score: 9.11; Total Votes: 2038 as of 2009-12-09.
---
---
Links In This Article