Mr. Pickles has issues with my new optical mouse.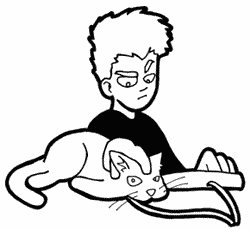 When Mr. Pickles was a kitten, my fiance Leah would always torment him with one of those laser pointers. These days, however, his kitten-like playfulness has mutated into an all-encompassing obsession with my new Microsoft Optical mouse. The attacks began in earnest shortly after it was out of the shrink wrap. Something about that darting red light, I guess. It drove Mr. Pickles paw-first into that abyss that lurks somewhere between Friskies and madness.
He leapt from the bookshelf in a blinding arc of fur, pouncing onto the peripheral in the midst of a furious game of Soldier of Fortune. That was just the beginning. It has since encompassed all nine of his lives.
After three years of teetering on the precipice, It's safe to say that Mr. Pickles no longer walks among the self-controlled. He's in that same dark place where the catnip junkies prowl about and howl at the moon. There's no getting through to Mr. Pickles anymore. However, if I wriggle his head, I find I pretty much have just as much control over my game as before. My Soldier of Fortune II skillz continue relatively unhindered, but it's Mr. Pickles who paid the ultimate price... with his soul.
[Daily Victim idea submitted by GameSpy reader Insane Inside]
---

Alas, Mr. Pickles. The fur I've ruffled time and time again. Will I ever look in your eyes and see the Mr. Pickles I know and love staring back at me?
---
Score: 7.8; Total Votes: 1966 as of 2009-12-09.
---
---