These new smaller PC boxes are great, I can sneak 'em in the house without my wife seeing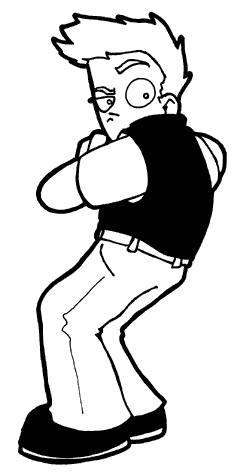 Yeah, so before, it was kinda a ritual. I would drive back from the mall, see? Pull into the garage. Then I'd unwrap the box, shuff off the plastic. I had to put that in my pockets. After that, I'd open the box, and the manual would go in my jacket pocket, assuming it would fit. The CD was precious cargo ... I'd have to stick it in my pants. And all that extra cardboard, I had to crush and flatten it. If all went well, I could jam it under the passenger seat for later disposal. The rebate cards were a sure giveaway, and I didn't want them to slip out in case my wife had the car and made a sudden stop, so I had to set them on fire and dispose of the ashes in the ashtray.
Nowadays it's a lot easier. The whole package fits right in my pants! Lookie here: Blazing! Check out my package. No, look. See?

I THINK THAT KARL IS CHEATING ON ME. HE COMES HOME LATE, HAS A BULGE IN HIS CROTCH, AND RUNS TO THE BEDROOM. ALSO, HE'S TAKEN UP SMOKING AGAIN.
[Victim idea based on a Usenet post by GuildBoss.]
---

She doesn't suspect a thing. I think tomorrow I'm gonna try to smuggle in BOTH EQ expansions!
---
Score: 8.1; Total Votes: 1893 as of 2009-12-09.
---
---
Links to This Article
Links In This Article