Here on MY server, I like to focus on attractive Dungeon Siege gardening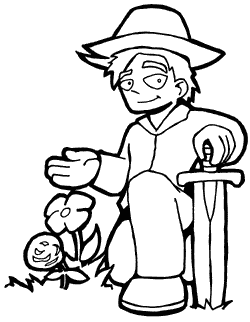 Hello, fair knight, mind where you step! Ever since I heard that Dungeon Siege was going to be customizable, I couldn't wait to get my hands in the dirt. The actual game editor hasn't shipped yet, but you'd be surprised what you can do just by replacing a few bitmaps here and there. Come, sit down on this manicured stump and let me show you my petunias -- oh, hold on --
YOU! Get the hell offa my geraniums! Move it -- don't you -- put the club of maiming down -- oh THAT'S it, That's the way it's gonna be? Come taste somma THIS, you little... Ow You fucking Dwarf! OWWHH Have some more OOhh. Bitch! Let's see your friends resurrect you from THAT!
Help me drag the body into the compost pile here, will you? Thank you kindly!
I'm sorry dear fellow, where was I? Yes, I'm looking forward to when this azalea bush blooms, it'll really compliment the coloring of this blood-spattered farmhouse, don't you think? Oh ... why yes, yes, I do occasionally get some untoward interruptions from interlopers who don't share my love of foliage. Many people don't read the description of my server: "A tranquil place of scenic solitude." Those chainmailed cretins go tromping through my zen rock garden, then back into my rose bush and ask where the monsters are, and I'm like, "It's a beautiful garden you SON OF A BITCH!" And then comes the swords. And the bleeding.
One time a fighter attacked my llama-shaped topiary. It won.
No, you understand, I see my server as a quiet place where warriors can come to sit amidst my flowering shrubs, maybe solemnly weed the young vegetable plants, ruminating on the nature of man and beast or good and evil as they immerse their hands in the warm, soft, rich soil -- oh hold on --
GET OUT MY PUMPKIN PATCH WITH YOUR POISON CLOUD you BUTTLICKING TROLLOP OF A SORCERESS! I will KILL YOU! I WILL STAB YOU with a SHOVEL!!
---

Do you like the small white stones that line this path? Ha ha! See, that's very clever of me, because they're not stones at all. They're human skulls buried up to the forehead. Looks beautiful next to the daisies, eh?
---
Score: 8.06; Total Votes: 1670 as of 2009-12-09.
---
---