My NEW Empire Earth scenario is more than unbeatable ... it's divinely inspired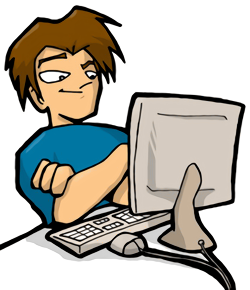 So, you remember my 'unbeatable' Empire Earth scenario? Yeah, no sooner do I release it to the net, than some guy writes me an email twenty minutes later saying it was way too easy. What a jerk! But, instead of getting all pissed off, I email him back and asked his advice. Lemme tell you, even though some people are real jerks over the Internet, sometimes you can find some pretty sharp guys out there. I mean, this dude was like an Empire Earth God or something. He let me in on a few tricks of the trade.
My new scenario? It's like divinely inspired. When I hit the "load" button, this screen will fill with a heavenly light. That guy on the Internet was good. I wonder what he does for a living?

SO I TELLS THE GUY, "YOU CAN'T JUST SLAP A WORLD TOGETHER"
You gotta allow yourself about six days just to build the map, right? Then, I like to take a break. You know. Rest for a day. Afterwards, you begin what I like to call "the long beta test." You can't rush this. I didn't build Rome in a day. Sometimes, if you don't like what you've done, you've got to be willing to just flood the whole map with water and start over. Hey, you gotta do what you gotta do.
---

How come whenever your scenario instructions tell a player not to eat the fruit, they always eat the fruit?
---
Score: 7.73; Total Votes: 1772 as of 2009-12-09.
---
---
Links to This Article
Links In This Article