Despite All Efforts My Pet Cow Has Completed a Long Slow Harrowing Descent into Depravity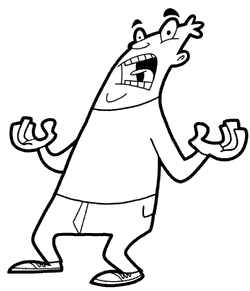 I have moral issues with the game Black and White, where you attempt to woo villages with your Godhood and raise an enormous pet in your image. When I think of the game I recall only a series of bugs and tedium. However, thanks to my piss-poor job as a DSL technical support operator, I can only afford one PC game a year, and this one was it. Amidst this strife and suffering, there was but one thing that kept me going: My pet Black and White Cow, Moomoo.
Oh sweet Moomoo! I raised her lovingly in my benevolent arms -- er -- hand icon. My hope was, in a world riddled with bugs and frustrating control schemes, that Moomoo would be my shining ray of goodness. I trained her well. I showed her the light. I showed her how to live and love and care and snuggle. Each day I showed up to work, booted up Black and White as I turned on my telephone, and Moomoo provided a ray of sunshine into my dreary cubicle-world.
Then one day I forgot to hit "pause" as I went to get a sandwich. I returned to find Moomoo randomly uprooting trees and lacksidaisicly tossing them toward the village. "Bad Moomoo!" I scolded, gently thwacking her across the face. She hung her head in shame. I thought lessons had been learned, and goodness would return to the land. But Moomoo ... reared in love ... she never recovered from the slappage.
She began shuffling about, moping. She started kicking things idly when I wasn't looking. I was losing my baby! One day I turned my back for a moment to answer the phone. When I looked up at my monitor, I witnessed the horror.
[Telephone Transcript Follows]

HELLO, TECHNICAL SUPPORT? PLEASE, PLEASE HELP ME. IN A FIT OF RAGE I SEEM TO HAVE ... CLIPPED MY CONNECTION! I NEED MY INTERNET BACK!
"You've reached InterNetnet DSL. This call may be monitored for quality assurance purposes. Now, this is for a residential account?"
Yes! Yes, I cut my connection! I have no email! No ICQ! No web! Nothing!
"Hang on a moment ... what? Wait -- WHAT?
...I cut my connection. What can I do?
"YOU JUST SHAT ON THE VILLAGE SQUARE YOU MISERABLE RAT-FACED CLOVEN-HOOFED TURD!"
Oh please don't be mad at me -- I'm really sorry, I didn't know it was going to be this big of a deal...
"You son of a bitch! After all I've done for you!"
I know, your service has been so good. I'm sorry! I really, really am.
"I'll beat you! I will SLAP YOUR ASS SO HARD YOUR LITTLE BRAYING HEAD WILL SPIN!" [Sounds of beating and frantic pained mooing are heard.]
[Weeping] Please, please stop! I didn't mean to do it! ...what are you doing?
[The furious beating of a cow is audible over the screams and mooing]
No ... no don't hurt the animals! I didn't mean it. I was mad at my roommate playing Day of Defeat instead of cleaning the fridge and--
"You were my SUNSHINE?! Do you know that? You were my SUNSHINE and now you're a miserable flailing FAILURE! I disown you!"
I ... I didn't realize you'd take it so personally. I'm SO SORRY! I'll never cut my DSL again! Sign me up for a five year contract -- no, ten years! Just please forgive me!
"No, no, this can't go on. We're through, you mangy animal! Through." [Tech support hangs up, weeping.]
---

What am I going to play for the rest of the year!? Oh, hang on ... wasn't I in the middle of a call? Hmm.
---
Score: 9.18; Total Votes: 2744 as of 2009-12-09.
---
---
Links In This Article