I've Been Defending This Flag since You Were in Your Father's Scrotum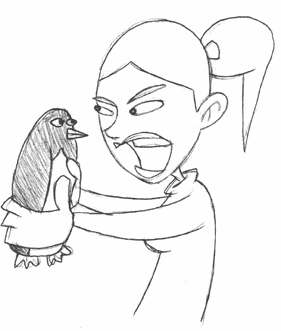 Look here, chumpy! This flag, this base, this turf is MINE, you understand? I've been defending this very flag since before you even installed Windows. I've been defending this flag since before daylight savings time. You know when they invented luggage wheels? I don't, either, but I can say almost with certainty that whenever they did I was still defending this damn flag. So listen up!
I own this base, see? When new rockets spawn in, you must wait at LEAST four seconds before you pick them up. After four seconds, you can be assured that I left them there intentionally for my teammates and didn't need them for myself. How can you know for sure? Because I know when ALL the rockets in this base will spawn, and I time each and every one! How can I do that?
Because I've been defending this base since before the Falkland Islands War!
When you hear a splash, you will ignore the pool in the back of the base and instead guard the front door. This is known as covering my back. I'll kill the jerk coming through the water entrance, because I have sighted each and every square inch of this base and will shoot him before he even emerges from his watery stinkhole.
I can do so because I've been guarding this flag since Carson was still on the Tonight Show.
The fact is, I have never even SEEN the enemy base. I assume that such a structure exists. I have heard the other players talk about it. There is ancillary evidence available to corroborate the existance of an enemy stronghold, in the fact that enemy flags are occasionally brought to our base, presumably from a similar enemy structure. Also the enemy seems to continually appear, I can only assume from a home of their own. But the existence, or lack of, an enemy base does not concern me. Because this base is my base, and you are in MY HOUSE.
You do not so much as wipe your ass in the presence of my base unless you ask and I respond with the "affirmative" chat shortcut that I have had bound to my 'H' key since Nixon was president. Have I made myself clear?
---

It's important for some of you chumps to vote for the high numbers, and some of you chumps to vote for the low numbers. I'll guard the undefended middle. I can do that because I'VE BEEN DEFENDING THIS BASE SINCE THEY CANCELLED THE JEFFERSONS!
---
Score: 8.09; Total Votes: 3295 as of 2009-12-09.
---
---
Links to This Article