Hi. I'm Mike. I'm a Saveaholic.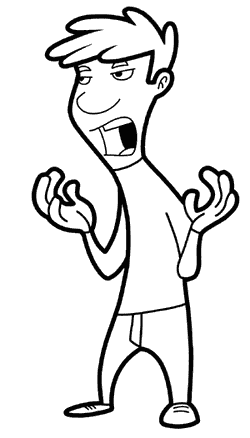 It all started with the original Quake 1. That's where I learned to hit F6 all the time. See, the game started up, and at the beginning there are three doors to choose from -- easy, medium, or hard. I thought, "Uh oh. Better safe than sorry," and I saved the game.
To start the hard level, you had to jump over a pit of lava, right? I walked up to the pit and hit save. Then I jumped and I saved in mid-air, just to make sure I had a good landing. I saved when I got to the other end, 'cuz I had made it. Then I went through the door and saved my game, pleased with my progress.
I finished the original Quake without dying. If I so much as lost a point of health I quick-loaded. If I used up too much ammo shooting a monster I quick-loaded the game. Do you know exactly how many nailgun nails it takes to kill a Shambler? I do. I didn't waste a single nail. If I did, getting it back was only a quick-load away.
Then I played through Unreal. By this time I was a master of saving. I bound quick-save to my left mouse button and quick-load to my right.
Soon I was ready for greater tactical challenges. I tried Rainbow Six but there were no mid-level saves, so, I mean, where's the fun in that?
My quicksaving habits are really causing problems for my work ethic. For instance, I back up my harddrive four times a day. When I write documents in my word processor, I don't use the backspace key -- I save every other word and if I make a mistake I merely revert to an old document.
This morning I called my mother, and I said something wrong so I hung up on her and called her right back.
Please help.
 
[Daily Victim idea submitted by GameSpy Reader Mike, a. k. a. ImuyumI]
---

Was that okay? If you like I can go back and do it again? I'd better do it again, just to make sure.
---
Score: 8.63; Total Votes: 2065 as of 2009-12-09.
---
---
Links to This Article