Yeeaahhh, This Uh, 'Chip' the Guy Sold You to Play Pirate Games on Your Playstation ... Is a Potato Chip.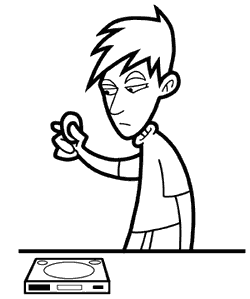 Soooo ... don't get me wrong, I was pretty excited about the chip, too, so we could copy all those hacked games and play them on your Playstation, but uh, I can't install this for you. This chip isn't compatible. No, not with your PlayStation, no. Not with any Playstation, really. Yeah, it's uh ... how can I say this? This is a potato chip. Yeah. Yeah, it's, it's snack food. I'm sorry.
Well, hang on, slow down -- I know what the guy probably said, but I think he was lying to you. ... oh yeah, when he assured you he wasn't lying? I think he was lying then, too. Well, I'm pretty sure, yeah, cuz, if you look closely with me here, yeah, you see what I mean? Yeah, yeah. It's potato. It's greasy. It's ... it's lunch-munchies, man.
.... hmmm. I see. That's, yeah, that's sure a lot of money. How did you get that much?
... geez. Yeah, that's harsh. Did your mom even know you had her old engagement ring? Can you hock it back? -- oh -- oh, right, right, the guy has all the money. Hmmm. Yeah. What? Oh no, I don't think you can trade the chip to the pawn shop to get back your mom's ring again. No ... no, see, it's ... it's a potato chip, not sure what the street value is, but it's not even in the original wrapper. I just, uh, broke some crumbs off, too, I'm pretty sure that devalues it. Yeah. Yeah ... sour cream and onion. Yeah.
Can I uh ... can I eat this? I mean, is that okay? I'm starvin' balls here. Yeah. Yeah.
[Victim idea submitted by GameSpy reader Brandon Conley.]
---

Oh CRAP, that's not sour cream!
---
Score: 7.99; Total Votes: 1607 as of 2009-12-09.
---
---
Links to This Article